Judging Panel: Andrew McFarlane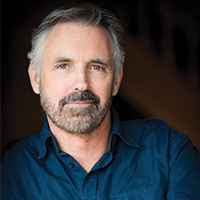 Andrew has appeared in many of Australia's most admired television programs, films and stage productions, and since graduating from The National Institute of Dramatic Art (NIDA) in 1973, his near 50 year career has made him a household name and one of Australia's most recognised actors
He has performed on stage for a every state theatre company in the country and numerous commercial companies in productions as varied as Shakespeare's King Lear, Cat on A Hot Tin Roof, FAME the Musical , and the latest David Williamson comedy, Family Values for Griffin Theatre Company in Sydney earlier this year.
His first film role was in 1976 when he starred in Born to Run, a Disney Studio feature shot in Australia and in the same year he starred in Break of Day, produced by the legendary film producer Pat Lovel after her feature film Picnic At Hanging Rock.
He has starred opposite Mimi Rodgers in Little White Lies, and with Virginia Madsen and Jason Mamoa in Losing Lilly.
He played Cate Blanchet's attorney in the Hollywood film, Truth, in a cast which included Robert Redford, Dennis Quaid and Topher Grace.
His television credits are many and various.
Some landmark series he has starred in include The Sullivans, Patrol Boat, The Flying Doctors, Miss Fisher's Modern Murder Mysteries, Glitch, Secret City, Neighbours, Home and Away, Janet King and Cleverman.
And of course, he has been a regular presenter on the iconic childrens' television program, Playschool, for the past 22 years!
https://www.imdb.com/name/nm0568791/