Judging Panel: Ally Burnham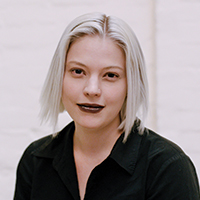 Ally Burnham is an Australian screenwriter, best known for her two feature films Unsound (2020) and Nice Package (2016). Ally has also written for TV, developing and collaborating on projects for CJZ, including Sweet Jane. In 2016 the project was a recipient of Screen Australia's Gender Matters initiative.
In 2013, the Australian-wide young filmmaker's competition, The Shoot, produced her short, The Pilgrim Report. It premiered at the Sydney Opera House during its 40th Anniversary Celebrations. Her debut short film, 2.0, enjoyed a fruitful festival run, appearing in competition at seven festivals.
A GFS and NIDA graduate, (Bachelor in Film and Screen Media, Masters in Fine Arts, Writing for Performance), Ally also writes as a novelist. In 2020 she received a fellowship residency at Varuna House for the development of her novel.
https://www.imdb.com/name/nm5427372/