Judging Panel: Ben Lewin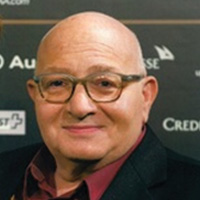 Born in Poland and raised in Melbourne, Australia, Ben Lewin's career as a writer and director is spread across three continents and includes award-winning documentaries, feature films, TV movies, mini-series and episodic programs.
As a young man, Lewin showed great passion for photography and creative writing, but his academic studies took him into the world of law. Lewin left his work as a criminal barrister when he was offered a scholarship to the National Film School in England. After graduating, he joined BBC Television as a director on the Nationwide program, followed by other documentary and current affairs programs for Thames, Granada and Channel Four Television. His breakthrough project as a writer/director was The Case of Cruelty to Prawns, a comedy-drama that won the Best Television Film Award at the prestigious Melbourne Film Festival.
Lewin is renowned for his award-winning feature film The Sessions, a moving true-life story based on the sexual awakening of Berkeley-based poet and journalist Mark O'Brien who spent most of his life in an iron lung. Starring Oscar-winner Helen Hunt, and Oscar nominees John Hawkes and William H. Macy, the film won numerous international awards including Audience Awards at the 2012 Sundance, San Sebastian and Mill Valley Film Festivals, and a 2012 Sundance Special Jury Prize for Ensemble Cast. In 2013, the lead cast of The Sessions garnered two Independent Spirit Awards for Best Male Lead and Best
Supporting Actress, as well as two Golden Globe nominations in the same categories and an Academy Award nomination for Best Supporting Actress.
In 2016, Lewin completed filming Please Stand By starring Dakota Fanning and Toni Colette. Due for release in the US in January 2018, the film follows a young autistic woman determined to meet the deadline for a Star Trek writing competition. Lewin has recently completed The Catcher was a Spy, a WWII drama attracting attention for both its unusual story and stellar cast. The story
of a baseball pro turned espionage agent stars Paul Rudd alongside
Paul Giamatti, Jeff Daniels, Guy Pearce, Tom Wilkinson, Mark Strong and
Sienna Miller. The film premiered at the prestigious 2018 Sundance Film Festival
and opened across the US to critical acclaim in June 2018.
Ben Lewin is also renowned as the writer and director of comedy features Paperback Romance (aka Lucky Break), a love story about slightly damaged people starring Anthony LaPaglia and Gia Carides, and the messianic farce The Favour, the Watch, and the Very Big Fish starring Jeff Goldblum, Bob Hoskins and Natasha Richardson. After settling in Los Angeles, Lewin brought his distinctive mix of the preposterous and the perceptive to Hollywood Gold, a personal documentary of his misadventures in the Beverly Hills jewellery trade at Oscar time. In addition to creating the highly successful Australian TV series Rafferty's Rules, Lewin's episodic television work includes one of the highest-rating episodes of Ally McBeal (Let's Dance), Touched by an Angel, a number of episodes of the most popular drama series in Australia, Sea Change and, more recently, on the acclaimed new ABC series Speechless.
Some of Ben's other notable credits include the murder-mystery feature Georgia, starring Judy Davis, which won eight Australian Film Institute nominations; the much-honored and award-winning mini-series The Dunera Boys starring Bob Hoskins - the true story of 2,000 German and Austrian Jewish refugees living in England who were mistakenly suspected as Nazi spies and transported to Australia in 1940; the award-winning A Matter of Convenience, a tele-movie about marriages of convenience with Jean-Pierre Cassel, John Clarke and Deborrah-Lee Furness; and Plead Guilty, Get a Bond, about an aboriginal woman and her conflict with the Australian legal system, for
which he won an AFI award for Best Screenplay in a Short film.
An Australian at heart, Ben has been living and working in California since 1994 and is currently in development on a number of feature film and television projects with his wife and producing partner Judi Levine.