Judging Panel: Deborah Calla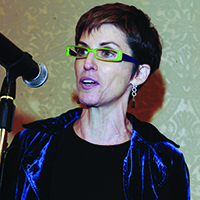 Deborah Calla is a writer, producer, and tireless activist. She has produced and written for film and television, and published three health and fitness books with Putnam and Scholastic. Her work has appeared in many places, including The Huffington Post, Vogue, and Harper's Bazaar.
In 2010, together with Allen Rucker, Deborah became the chair of the Media Access Awards (MAA) an event first created by Norman Lear, Fern Field and Norman Brooks. The MAA celebrates people in the entertainment industry who advance the portrayal and employment of people with disabilities. www.mediaaccessawards.com
Since 2003, Deborah has chaired the Producers Guild of America Diversity Committee, creating opportunities for producers of diverse backgrounds while promoting stories that accurately reflect the reality of our world. Along with Oscar-nominated producer Lydia Dean Pilcher, Deborah helped launched the Producers Guild of America Women's Committee in 2013 -working toward greater equality for women in front of and behind the camera. She also serves on the advisory board for the Geena Davis Institute on Gender in Media.
http://www.imdb.com/name/nm0130111/