Judging Panel: Rod Hardy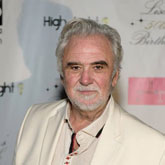 Rod Hardy is a widely accomplished and talented director who has forged his keen instincts and his trademark visual sense of story through extensive experience. His collaborative efforts are but a gleaning of his problem-solving techniques. He has a great ability to bring the best out in people whether it is an actor's performance or a DP's best shot.
Having honed his directing and producing skills in Australia, Hardy moved to Los Angeles in 1992 to launch his American career. His first assignment was to direct Lies and Lullabies the traumatic life story of pregnant cocaine addicts, starring Susan Dey and Piper Laurie. The movie was awarded the Scott Newman Award (founded by Paul Newman and Joanne Woodward in memory of their son) that is presented annually to the production that best illustrates the degradation of and triumph over drug addiction.
Since his award winning U.S. directorial debut, he has garnered both Golden Globe and Emmy nominations for movies of the week and mini-series. M.O.W.'s range fromGrounds for Murder for CBS, starring John Ritter and Henry Winkler in memorable dramatic roles, to the re-creation of the classic Marjorie Rawlins' novel, The Yearling, for CBS that featured notable performances by Jean Smart and Peter Strauss. Hardy's directorial range runs the gamut of contemporary drama and science fiction to portraits of important historic moments, to the re-telling of such adventure classics as Robinson Crusoe with Pierce Brosnan and Jules Verne's 20,000 Leagues Under the Sea with Michael Caine.
Rod also directed the successful Turner Network Television adventure-drama Two For Texas, starring Kris Kristofferson, Tom Skerrit and Scott Bairstow garnering the prestigious Cowboy Hall of Fame Western Heritage Award. He teamed up for a second time with Tom Skerritt , this time on the critically acclaimed cable movie re make of HIGH NOON for the Superstation TBS.
After completing X-Files series 8, and directing JAG series 7 for Belisarius Productions / CBS, Hardy has gone on to direct episodes of Robbery Homicide Division for Producer Michael Mann, The Practice for David E Kelley Productions, Touching Evil for producers Bruce Willis/ Arnold Rifkin and Battlestar Gallactica for the Sci-Fi channel. Also included in his repertoire, The Mentalist starring Simon Baker, DollHouse for producer Joss Whedon and FOX, Covert Affairs with Piper Perabault, Burn Notice with Jeffrey Donovan, and Make It Or Break It for The Family Channel. Mental for FOX, shot in Bogota, Colombia, and Persons Unknown NBC, shot in Mexico City.
His theatrical feature DECEMBER BOYS was winner of the Giffoni Film Festival Award 2008. Released by Roadshow/Warner Bros, it starred Daniel Radcliffe of Harry Potter fame and Teresa Palmer.
http://www.imdb.com/name/nm0362738/