Judging Panel: Cinzia Coassin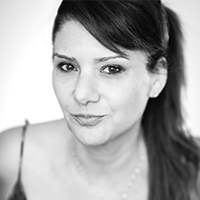 Cinzia Coassin started her career as a theatre/film and television actor. Challenging herself to develop ideas has led her to expand in all areas of the entertainment Industry.
Nurturing cultural identity in family relationships on a universal scale has always been extremely present in her project choice previously leading her to work in association with The Multi-Cultural Arts Festival, Carnivale. Producing a short film festival - Ten to One, providing a platform for writers/producers/directors from culturally diverse backgrounds to showcase their stories/films.
During the two seasons of Ten to One Cinzia requested that the filmmakers donate a prop from their film to then be auctioned off - donating the proceeds to The Childrens Starlight Foundation.
Cinzia later found herself being nurtured in the Industry; by landing herself the role of Faith Martins Casting Assistant this allowed her to explore the film and television industry from another perspective, assisting on The Strip and Blood Brothers for the 9 Network, Spartacus, Blood and Sand; Spartacus, Gods of the Arena; Spartacus, Vegeance; Legend of the Seeker; K9 (children series), and the feature films 33 POSTCARDS; THE KING IS DEAD; SATELLITE BOY; EVIL DEAD (the re-make); CABIN IN THE WOODS ; four ABC USA pilot season. FOX, CBS, NBC.
As a seasoned Casting Associate and industry professional Cinzia went on to guest star and thrive at Christine King Casting, where she was involved in the casting process for THE KINGS DAUGHTER; THE DRESSMAKER; KILL ME THREE TIMES; Camp (NBC, USA); the 2014 CBS pilot season; The Code; and Hiding (ABC Australia). Also involved with the Australian search for the hit HBO series Game of Thrones; Hercules; The Shannara Chronicles; The Badlands; and THE BFG.
Cinzias U.S searches thus far also include Disneys A WRINKLE IN TIME and UGLY a true story based on Super Model Stacey Mckenzies life story.
In 2019 Cinzia was nominated for a Casting Guild Award for Best Casting in a Feature Film for her work on UNSOUND, an Australian Feature Film supporting disability and diversity. UNSOUND also received an AACTA nomination for Best Indie Feature Film in 2020.
As Casting Director on the Action Sci-Fi Feature OCCUPATION - Rainfall, Cinzia also took on the challenge of co-ordinating all the Background Artist/ Extras.
In addition Cinzia cast , Suka, a choose your own adventure action series shooting in Sydney and Weapons of Choice a TV series shooting in QLD, Australia. Cinzia has a very busy slate across 2023/24 with many more feature film and tv projects that are in preliminary stages of production. Also recently becoming involved with attaching finance to film and tv projects has contributed to Cinzia developing ideas with teams of creatives.
Cinzia is also a proud mother, daughter and sister.
https://www.cinziacoassin.com.au/