Judging Panel: Peter Blackburn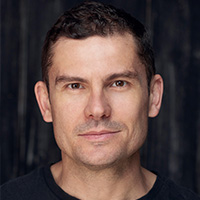 Peter is a theatre-maker, film director and educator with an undergraduate degree in Film and Literature from UNSW, a postgrad in teaching and a Masters of Directing from the Victorian College of the Arts (Melbourne University). He is a dedicated acting teacher with experience at many of Australias leading actor-training institutions, including the VCA (Melbourne University), NIDA, the National Theatre Drama School, 16th Street Actors Studio and AAFTA. Since making his directorial debut on the independent scene in Melbourne in 2012, Peter has directed over 30 theatrical productions, short films, a web series and co-collaborated on innumerable other projects. These productions have seen his work performed across three continents and are, to date, all proudly independent works. For his commitment to his craft, Peter was a recipient of the prestigious Mike Walsh Fellowship in 2019 for his contribution to Directing in Australias independent arts scenes. This is an initiative through NIDA and the Hayden Group. He attended UCLAs Summer Graduate Film Course this 2022 with this opportunity..
Peter continues to share Australian-focused stories abroad where he can, with a collaboration with legendary acting coach Larry Moss on Tommy Murphys Holding the Man in 2014 his first of many US productions of Australian content. In 2022, continuing the trend, he directed the much-lauded debut play by Laneikka Denne, Dead Skin, for Diversity Pictures and AAFTA. It was fulfilling to be nominated for 3 respected awards at the Hollywood Fringe this year, given it was our collective debut to the Festival. His affinity for sharing Australian stories in Los Angeles was further rewarded when the Australian Theatre Company production of Brendan Cowells Ruben Guthrie in 2016 won the L.A. Scene Awards for Best Comedy, Best Director and Best Ensemble.
Along with his work in theatre-making and actor-training, Peter makes short films and, over COVID 2020, directed web-series, The Pact. The latter was conceived, produced and assembled in complete isolation; cast and crew remained within the legal lockdown constraints during the 3 month long shoot. The challenge, set by our producers, was relying solely on the technologies each artist had to hand, to join the growing movement of resourceful and tenacious artists of all stripes here in Australia making art when we needed it personally and as a community, and when there was a good deal of silence around its production and future. The ingenuity of the talent assembled by Bitten By Productions to pull off such a seemingly impossible task - all to keep actors, writers and producers doing their jobs and remaining engaged during difficult times - was one of the most important projects I have had the pleasure to helm.